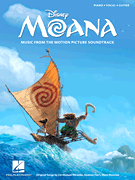 Moana - PVG Collection
Details:
Product Summary

This sweeping, CG-animated feature film about an adventurous teenager who is inspired to leave the safety and security of her island on a daring journey to save her people – with a little help from a demigod – features original songs by Hamilton's Lin-Manuel Miranda. This folio features nine songs from the soundtrack including: How Far I'll Go • I Am Moana (Song of the Ancestors) • Know Who You Are • Shiny • We Know the Way • Where You Are • You're Welcome. This souvenir folio also includes beautiful full-color scenes from the film.
Table of Contents:
Moana - PVG Collection
0.51
Related Products
6 Total Related Products
You Also Might Like
10 Total Similar Products
---
Customer Reviews





(0.00)

stars out of 5
(Only registered customers can rate)
Affiliates and Partnerships
---
Your shopping cart is currently empty.