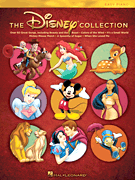 The Disney Collection - Easy Piano
Details:
Product Summary

64 classic and contemporary Disney songs are featured in this collection for easy piano, including: Alice in Wonderland • Beauty and the Beast • Colors of the Wind • Friend like Me • Go the Distance • Hakuna Matata • It's a Small World • Mickey Mouse March • Part of Your World • Reflection • A Spoonful of Sugar • When She Loved Me • You Can Fly! You Can Fly! You Can Fly! • Zip-A-Dee-Doo-Dah • and more.
Table of Contents:
Related Products
6 Total Related Products
You Also Might Like
10 Total Similar Products
---
Customer Reviews





(0.00)

stars out of 5
(Only registered customers can rate)
Affiliates and Partnerships
---
Your shopping cart is currently empty.