General · Incredibles 2: Selections for Piano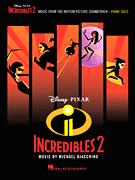 Incredibles 2: Selections for Piano
Details:
Product Summary

11 songs penned by Michael Giacchino for the motion picture soundtrack to this Disney sequel to the highly popular animated film, The Incredibles. Songs include: Ambassador Ambush • A Bridge Too Parr • Chill or Be Chilled (Frozone's Theme) • Consider Yourself Underminded! • Diggin' the New Digs • Elastigirl Is Back • Here Comes Elastigirl (Elastigirl's Theme) • Hero Worship • Incredits 2 • A Matter of Perception • Pow! Pow! Pow! (Mr. Incredibles Theme). Includes eight pages of full-color artwork from the film!
Table of Contents:
Incredibles 2: Selections for Piano
0.52
You Also Might Like
11 Total Similar Products
---
Customer Reviews





(0.00)

stars out of 5
(Only registered customers can rate)
Affiliates and Partnerships
---
Your shopping cart is currently empty.