General · Minecraft -- Volume Alpha: Sheet Music Selections from the Video Game Soundtrack [Piano]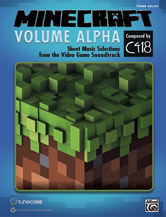 Minecraft -- Volume Alpha: Sheet Music Selections from the Video Game Soundtrack [Piano]
Details:
Product Summary

With more than 20 million players worldwide, Minecraft ranks among the world's most popular video games. Its soundtrack by Daniel "C418" Rosenfeld is one of the world's most recognized and beloved video game scores, and this book lets pianists bring the music to life! Titles: Key * Door * Subwoofer Lullaby * Death * Living Mice * Moog City * Haggstrom * Minecraft * Equinoxe * Mice on Venus * Dry Hands * Wet Hands * Clark * Chris * Excuse * Sweden * Danny * Beginning * Droopy Like Ricochet.
Table of Contents:
Minecraft -- Volume Alpha: Sheet Music Selections from the Video Game Soundtrack [Piano]
0.40
Related Products
3 Total Related Products
You Also Might Like
9 Total Similar Products
---
Customer Reviews





(0.00)

stars out of 5
(Only registered customers can rate)
Affiliates and Partnerships
---
Your shopping cart is currently empty.