Serialized · AudioBox 96 Studio Ultimate Bundle - 25th Anniversary Edition
AudioBox 96 Studio Ultimate Bundle - 25th Anniversary Edition
Description:
Summary
Best for producing and recording!
Be a pro with the deluxe hardware/software recording collection AudioBox Studio Ultimate Bundle!
Includes:
The AudioBox USB 96 is the heart of the AudioBox 96 Studio. This simple, handy little audio/MIDI interface has just the right features for basic recording needs, including two combo mic/instrument inputs and zero-latency monitoring, so you can simply plug in and start recording right away. Bus-powered, built to travel, compatible with most recording software for Mac and Windows, and equipped with high-performance microphone preamplifiers and professional-quality, 24-bit, 96 kHz converters, the AudioBox USB 96 makes high-definition recording easy.
No other entry-level recording and production software is this easy to learn and use, yet is capable of creating studio-quality output. Studio One® Artist lets you work quickly and stay focused on your inspiration, offers unlimited tracks and plug-ins, and delivers features not normally found in entry-level DAWs. Access powerful editing tools without wading through menus. Load and save audio clips, MIDI files, and effects by drag-and-drop. Studio One makes it easy!
The Eris E3.5 studio monitors are used worldwide by audio engineers who need to hear every detail of their recordings. Eris E3.5 employs the same technology as the larger Eris models to deliver studio-quality sound, with a smooth and accurate frequency response. They're compact enough to fit almost anywhere, but still offer robust I/O—you can connect them to nearly anything.
Get your mic collection off to a good start with the M7 large-diaphragm condenser microphone and desktop stand. Condenser mics are the overwhelming choice of recording studio professionals, enabling you to capture musical details, harmonics, and subtle nuances that would get lost with dynamic mics. Large-diaphragm condenser microphones, like the M7, tend to "warm up" a sound, making them the go-to microphone for recording vocals and a wide range of instruments.
PreSonus' high-definition HD7 headphones take advantage of a patented, semi-open sound chamber to deliver exceptionally deep low frequencies with a balanced and yet powerful bass punch. Accurate midrange and extended treble response let you pick out the fine details of a mix or track. The lightweight, ergonomic design adjusts to any head size, offering a comfortable listening experience during long recording sessions.
Features
AudioBox USB® 96

Bus-powered USB audio and MIDI interface
Perfect match with Studio One® Artist software for Mac® and Windows®
24-bit resolution, 44.1, 48, 88.1, and 96 kHz sampling rate
2 combo mic/instrument inputs with Class A mic preamplifiers
48V phantom power (for included M7 microphone or other condenser microphones)
Zero-latency monitoring via internal analog mixer
Headphone jack with level control (for included HD7 headphones or other headphones)
1/3U rack-mountable
Computer-to-interface connection cable included



Studio One Artist software

Elegant single-window work environment
Powerful drag-and-drop functionality
Unlimited audio tracks, MIDI tracks, virtual instruments, buses, and FX channels
Content browser with convenient sort options and preview player
Most intuitive MIDI-mapping system available
Real-time audio time-stretching and resampling
Multitrack comping and MIDI editing
Transient detection and editing and groove extraction
Automatic delay compensation
Advanced automation
Integrates tightly with Celemony Melodyne
Instantly configures to PreSonus® interfaces?
Compatible with ASIO-, Windows Audio-, and Core Audio-compliant interfaces
26 Native Effects 32-bit effects and virtual instrument plug-ins
10+ GB of third-party software, loops, and instruments
Mac- and Windows-compatible



Eris E3.5 Studio Monitors

3.5-inch (89 mm) woven composite low-frequency transducer
1-inch (25 mm), ultra-low-mass, silk-dome, high-frequency transducer
Rear-firing acoustic port for superior bass-frequency reproduction
Optimized, resonance-suppressing internal bracing
High- and low-frequency tuning controls
Front-panel Volume control for speakers and headphone amplifier
50 watt (25W/side), Class AB biamplification
RF interference, output current limiting, over-temperature, transient, and subsonic protection
Amplifier "soft start" feature eliminates popping on power-up
Internal power supply with IEC connector
Power switch with on/off LED
Balanced ¼-inch TRS, unbalanced 1/8-inch stereo, and RCA inputs
Integrated stereo headphone amplifier with front-panel 1/8-inch output



M7 Microphone

Large-diaphragm design
Perfect match with Studio One® Artist software for Mac® and Windows®
Captures far more detail than a dynamic mic
Mic stand adaptor
Phantom-powered via AudioBox USB
9' / 3 m cable included
Cloth carry bag included



HD7 Headphones

High neodymium resolution drivers
Precision-tuned acoustic chamber
Extended bass response
Built tough to withstand abuse
Auto-fit head pads
Comfortable and long-lasting ear pads
98" / 2.5m single-side cable
Optimized pressure
Lightweight
Specs
AudioBox USB® 96

Microphone Preamp

Type: XLR Female Balanced
Frequency Response (±3.0 dB): 20 Hz to 20 kHz®
Input Impedance (Balanced): 1200O
THD+N (unwtd, 1 kHz @ +4 dBu Output, Unity Gain): < 0.008%
S/N Ratio (Unity Gain, Ref. = +4 dBu, 20 Hz to 22 kHz): > 95 dB
Common Mode Rejection Ratio (1 kHz, 55 dB Gain): > 45 dB
Gain Control Range (± 1 dB): 0 dB to 35 dB
Max Input Level (Unity Gain, 1 kHz @ 0.5% THD+N): -3 dBu
Phantom Power (±2 VDC): +48 VDC



Instrument Input

Type: 1/4"
TRS Female Unbalanced Input Impedance: 0.5 MO



Line Outputs

Type: 1/4"
Balanced Output Impedance: 51O



Headphone Output

Type: 1/4" TRS Active Stereo
Maximum Output: 60 mW/Ch @ 60O Load
Frequency Response (±1.0 dB): 20 Hz - 30 kHz



MIDI I/O

Type: Dual 5-pin Female DIN

Digital Audio

ADC/DAD Dynamic Range (A-wtd, 48 kHz Sample Rate): 105 dB
Bit Depth: 24
Reference Level for 0 dBFS: +4 dBu
Internal Sample Frequency Selections (kHz): 44.1, 48, 88.2, 96
Power: USB 2.0 Bus-powered



Physical

Dimensions: 1/3U (steel chassis)
Height: 5.5" (139.7 mm)
Depth: 1.75" (44.45 mm)
Width: 5.5" (139.7 mm)
Weight: 1.4 lbs (0.64 kg)



Eris E3.5 Studio Monitors

Inputs

1- Stereo 1/8"
2- Balanced 1/4" TRS
2- Unbalanced RCA



Performance

Frequency Response: 80 Hz - 20 kHz
Crossover Frequency: 2.8 kHz
Amplifier Power: 25W/speaker
LF Driver: 3.5"
HF Driver: 1" silk dome
Peak SPL (@ 1 meter): 100 dB
Input Impedance: 10 kO



User Controls

Volume Range: A-type taper
MF Control: Variable (-6 to +6 dB, center 100 Hz)
HF Control: Variable (-6 to +6 dB, center 10 kHz)



Protection

RF interference
Output-current limiting
Over-temperature
Turn-on/off transient
Subsonic filter
External mains fuse



Power

100-120V ~50/60 Hz or 220-240V ~50/60 Hz



Cabinet

Vinyl-laminated, medium-density fiberboard



Physical

Width: 5.6" (141 mm)
Depth: 6.4" (162 mm)
Height: 8.3" (210 mm)
Weight (per pair): 6.4 lb. (2.9 kg)



M7 Microphone

General

Type: Large-diaphragm condenser microphone
Polar Pattern: Cardioid
Frequency Response: 40 Hz - 18 kHz
Sensitivity: -39 dBV/pa (12.2 mV/pa)
Rated Impedance: 200O
Equivalent Input Noise (EIN): 20 dB
Maximum SPL: 136 dB SPL
Phantom Power Required: +12 to +52 VDC, 3 mA
S/N Ratio: 74 dB
Dynamic Range: 11 dB
Current Consumption: 3.5 mA



Physical

Diameter: 2.13" (54 mm), maximum
Length: 6.69" (170 mm)
Weight: 11.3 oz. (320g)



HD7 Headphone

General

Acoustic Design: Dynamic, semi-open
Driver: 50 mm, neodymium
Frequency Response: 10 Hz to 30 kHz
Sensitivity: 98 dB SPL (1 mW)
Maximum Power: 300 mW
Rated Impedance: 56O
Earpad: Leather



Physical

Weight, without Cable: 7.8 oz (222g)
Cable: 8' 2" (2.5m) straight, single-sided
Plug Adapter: 1/8" to 1/4" (3.5 to 6.3 mm), screw-on, gold-plated, stereo mini-plug
System Requirements
macOS®

macOS® 10.13 or higher (64-bit only)
Intel® Core™ i3 or better
Minimum 4GB RAM / Recommended 8GB or more



Windows®

Windows® 10 (64-bit only)
Intel® Core™ i3/AMD A10 processor or better
Minimum 4GB RAM / Recommended 8GB or more



Mac and Windows Systems

USB 2.0 port
Internet connection
Internal or external 7200 RPM storage drive highly recommended
30 GB hard disk space
Monitor with 1366x768 resolution



Apple iPad

iPad® Pro, iPad Air, iPad mini with Retina display, iPad (4th generation)
iOS® 9.0.3 or higher
| | |
| --- | --- |
| Model: | 673454009518 |
| Manufacturer: | Presonus, Inc. |
Customers Also Enjoy
3 Total Related Products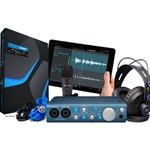 AudioBox iTwo Studio
You Also Might Like
2 Total Similar Products
---
Customer Reviews





(0.00)

stars out of 5
(Only registered customers can rate)
Affiliates and Partnerships
---
Your shopping cart is currently empty.