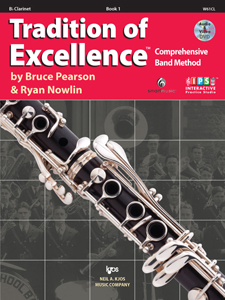 Tradition of Excellence Bk 1 Clarinet
Manufacturer Part #:
  W61CL
Details:
Product Summary

Tradition of Excellence by Bruce Pearson and Ryan Nowlin is a comprehensive and innovative curriculum designed to appeal to today's students. The music; the dynamic look; the scope and sequence; the tools for differentiated instruction; the smooth pacing with careful review; and the included INTERACTIVE Practice Studio™ make Tradition of Excellence the fastest growing band method today!
Table of Contents:
Bruce Pearson Ryan Nowlin Clarinet
Manufacturer Part #:
  W61CL
Customers Also Enjoy
5 Total Related Products
You Also Might Like
2 Total Similar Products
---
Customer Reviews





(0.00)

stars out of 5
(Only registered customers can rate)
Affiliates and Partnerships
---
Your shopping cart is currently empty.