Fresh Approach To Mallet W/cd
Manufacturer Part #:
  FATMPCD
Details:
Product Summary

A Fresh Approach to Mallet Percussion, A logical approach for developing music reading skills, technique and musicianship on the keyboard percussion instruments. Students will have fun playing songs along with the play-along tracks which feature REAL percussionists performing ensemble arrangements – none of the cheesy midi computer sounds that you hear from so many other books.

In addition to over 90 pages of great reading studies, this book also includes a nine page supplemental "mini-book" for timpani – complete with instructions on the common techniques, exercises and solos for the beginning timpanist.
Table of Contents:
Wessels Percussion 0
Manufacturer Part #:
  FATMPCD
Customers Also Enjoy
6 Total Related Products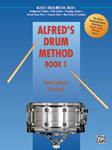 Alfred Drum Method Book 1
You Also Might Like
2 Total Similar Products
---
Customer Reviews





(0.00)

stars out of 5
(Only registered customers can rate)
Affiliates and Partnerships
---
Your shopping cart is currently empty.