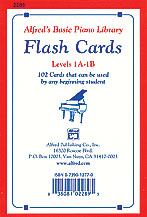 Alfred Flash Cards 1A/1B
Details:
Product Summary

102 cards are included in each set, and are coordinated page-by-page with Lesson Books, Levels 1A & 1B and Levels 2 & 3. May be used with any method.
Table of Contents:
Alfred Flash Cards 1A/1B
0.50
Customers Also Enjoy
4 Total Related Products
You Also Might Like
4 Total Similar Products
---
Customer Reviews





(0.00)

stars out of 5
(Only registered customers can rate)
Affiliates and Partnerships
---
Your shopping cart is currently empty.