Yamaha YDP184 Digital Piano - Rosewood
Manufacturer Part #:
  YDP184R
Description:
Product Summary
The Arius YDP-184 features the stunning sound of the flagship Yamaha CFX concert grand piano. You can customize the piano sound in the "Piano Room" by adjusting various parameters such as string resonance, damper resonance and touch response. Virtual Resonance Modeling (VRM) simulates the way an acoustic piano resonates—where the sound of one string causes sympathetic vibration in other strings and the soundboard--giving you a full, rich grand piano sound.

The true grand piano sound, matched with a highly authentic and expressive keyboard, make the YDP-184 the flagship Arius digital piano. By using a similar spring-less hammer mechanism as is found in a grand piano, the GH3 keyboard action reproduces the touch of an acoustic instrument, from the heavier feel in the lower register to the lighter touch in the upper octaves. It also features a three-sensor configuration, which accurately senses and interprets the behavior of the keyboard to create a grand piano playing experience.
Product Features
Piano sound quality only possible from Yamaha.
Yamaha's flagship 9' concert grand piano, the CFX, offers sparkling highs and a powerful resonant bass with a sound that projects to the furthest reaches of any concert hall. The CFX was played by the winner of the prestigious International Chopin Competition in 2010, and has since gained recognition as one of the greatest concert grands of modern times.
VRM physical modeling - the distinctive reverberation generated by the entire body of a concert grand piano.
In a grand piano, sound resonates throughout the body of the instrument, producing a rich reverberation that envelops the listener in sound. This phenomena is reproduced perfectly in the Arius through enhanced Virtual Resonance Modeling (VRM).

The original VRM calculates the various states of the strings for each of the 88 notes on the keyboard, as well as the timing and depth of the damper pedals when pressed, from one instant to the next.

The enhanced VRM now also calculates aliquot resonance in the upper octaves, and the full resonance of the soundboard, rim, and frame. This technology allows for vivid, bright, richly-varied expression that reflects the limitless number of factors inherent in piano performance.
Superb playability and feel.
Graded Hammer 3 (GH3) 88-key piano action with synthetic ebony and ivory keytops reproduces the touch of an acoustic piano, from the heavy feel in the lower register to a lighter touch in the upper octaves. It also features a three-sensor configuration, which accurately senses and interprets the behavior of the keyboard in order to provide a grand piano-style response and feel. This allows for quick note repetition and authentic expressive control. The piano keyboard with synthetic ivory key tops provide a tactile surface to the white keys, absorbing moisture from the fingers and preventing them from slipping.
Pedaling provides an added level of realism.
Half-damper pedal control creates more detailed nuance and subtlety when playing, similar to pedaling on a grand piano. This feature allows for continuously increasing lengths of sustained notes, from slight to full, as the sustain pedal is depressed.

Stereo Sustain samples provide mellow reverberations when the player depresses the damper pedal. Similarly, Damper Resonance provides broad and deep resonance when the pedal is used. Similar to that of an acoustic piano, the result is more realistic sound.
Capture your performance.
The MIDI recording function built into the instrument allows players to record performances*. Players can record up to 16 tracks for simultaneous playback. Both hands can be recorded separately and played back together. Additionally, you can create your build your own compositions by overdubbing different voices.

* Recordings are made in Standard MIDI file (SMF) format. Compatible software is required for playback of the recorded data on a computer.
The Stereophonic Optimizer - a new kind of headphone experience.
When using headphones, the Stereophonic Optimizer lets players enjoy the dispersed sound heard when sitting in front of an acoustic piano. With the Stereophonic Optimizer, Voices sampled from acoustic pianos appear to come from the body of the instrument. This provides a comfortable, natural experience that removes the drawbacks of performing with headphones.
Firmware V2.0 is here, and offers some exciting new features!
This firmware turns your USB to HOST port into a powerful audio & MIDI interface. Just connect with a single USB cable for audio/MIDI playback with a PC or iOS device. This allows you to record to, for example, Steinberg Cubase series products as audio or MIDI, without purchasing an Audio/MIDI interface separately. Firmware version 2.0 also enables compatibility with the intuitive Smart Pianist app. Smart Pianist turns your iOS device into a touch-screen controller for your digital piano, allowing you to easily select instrument Voices, adjust settings, and even learn how to play along with your favorite music.
Connect and interact with your instrument.
A standard USB cable can be used to connect the instrument to a computer or mobile device, opening up a world of creativity, entertainment, and education. iOS devices can be connected to the instrument using the Yamaha UD-BT01 Bluetooth MIDI adapter, or the Lightning-USB Camera adapter. The instrument can be used to interact as a controller and/or sound source with a variety of music creation applications.
Product Specs
88 Weighted Keys
GH3 keyboard with synthetic ebony and ivory keytops
Soft 1, Soft 2, Medium, Hard 1, Hard 2, and Fixed Touch Sensitivity
3 Pedals including sustain with half sustain function, Sustain (Switch), Sustain Contin uously, Sostenuto, Soft, Expression, Pitch Bend Up, Pitch Bend Down, Rotary Speed, Vibe Rotor, Song Play/Pause
Yamaha CFX Sampling Piano Tone, Key-Off Samples, and Smooth Response
Virtual Resonance Modeling (VRM), String Resonance, and Damper Resonance
256 Note Polyphony
24 Voices
6 Types of Reverb, 3 Types of Chorus, Intelligent Acoustic Control (IAC), Stereophonic Optimizer, and Damper Resonance
14 Voice Demo Songs, and 50 Classic Songs
PA-300C or an equivalent recommended by Yamaha
| | |
| --- | --- |
| Model: | YDP184R |
| Manufacturer: | Yamaha |
YDP184R
Manufacturer Part #:
  YDP184R
Customers Also Enjoy
2 Total Related Products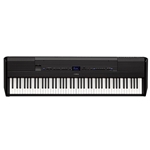 Yamaha P515 Digital Piano - Black
---
Customer Reviews





(0.00)

stars out of 5
(Only registered customers can rate)
Affiliates and Partnerships
---
Your shopping cart is currently empty.