General · Rico Grand Concert Select "Traditional" Clarinet Reeds, Box of 10
Rico Grand Concert Select "Traditional" Clarinet Reeds, Box of 10
Description:
Product Summary

Grand Concert Select Traditional reeds are filed and feature a traditional tip and thicker spine, providing a quick response. They have a traditional blank thickness; traditional blanks are made from cane closer to the bark, adding more brilliance to the sound.
| | |
| --- | --- |
| Model: | RGC10BCL |
| Manufacturer: | Rico |
Rico Grand Concert Select "Traditional" Clarinet Reeds, Box of 10
1002-RGC10BCL200
0.06
Related Products
6 Total Related Products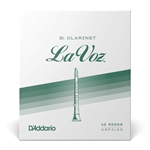 La Voz Bb Clarinet Reeds, Box of 10
Combine Your Purchase With
5 Total Upsell Products
---
Customer Reviews





(0.00)

stars out of 5
(Only registered customers can rate)
Affiliates and Partnerships
---
Your shopping cart is currently empty.